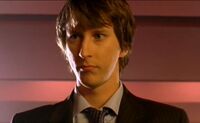 Trevor Speed was a small-time grifter. One of his major scams was apparently to pose as a mailman delivering a package to pensioners whose spouses had recently died; having convinced the pensioners to sign and pay for their spouse's 'package', he departed before they could discover that the package was actually only an old brick. He appears in "The Lesson".
Although he was apparently given a chance to join the gang when he befriended Danny Blue and was invited to participate in an attempt to scam African millionare Anthony Mgube - a man with an alleged passion for antique bank notes- by selling him a rare American bill called the 'Yankee Green', Speed went solo after the group learned that Mgube tested all of his notes; the only genuine Yankee Green they could access belonged to an old woman who had inherited it from her husband.
Unfortunately for Speed, he was cheated out of his money when Mgube paid him in fake notes- Speed having spent his own money to convince the old woman to give him custody of the note so that he could 'examine' it, he and Danny having previously visited her to examine the note- and the team were apparently caught by the police before he could confront them.
However, Speed was unaware that the entire con had been the gang grifting him rather than another target; one of his recent 'victims' of the 'brick-package' scam had been Danny's grandmother, who had told her grandson about Speed. 'Mgube' had only been Mickey in disguise, and the old woman who owned the 'Yankee Green' had merely been another grifter.