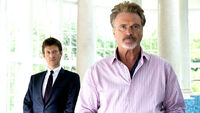 Toby Baxter was a collector of Love Diamonds, who had always wanted to have a certain piece, The Josephine Necklace, in his collection. All the pieces he owned were kept in a vault underneath his large house from which he rarely left. The crew get to know Baxter by chance. An associate and thief Frank Rice was ordered to steal the necklace for Baxtor from a vault. He did this successfully, but when Mickey and Emma came to purchase a small jewel Frank's son accidentantly mixed up the boxes and gave Mickey and Emma the diamond necklace. Consequently Rice and his son are beaten badly by 'tracer' Pinky Byrne who has been sent by Baxter to collect.
When the gang see what has been done to the two Mickey decides they need to help Frank. They meet with a specialist who gives them Baxter's name. They get to know about Baxter, not knowing Byrne is already on to them. Mickey abruptly puts the phone down on him while he's trying to convince him to hand over the nacklace. Eventually Mickey comes up with a plan, and a story, to fool Baxter. Emma is sent in and successfully convinces Baxter that thier fake story about how they lost the diamond is true.
However, and intentional slip up causes him to see the truth. As planned, the rest of the gang are summoned to the vault under Baxter's house where the diamond is swiftly replaced for a fake following a series of 'sleight of hand' moves. Mickey claims Baxter will not notice the necklace is a fake, saying he will only 'see the story behind it'.
Toby Baxter appears in "Diamond Seeker".