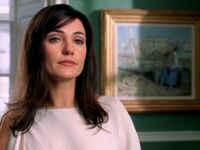 Meredith Gates (played by Orla Brady) is an avid art collector with a particular interest in the artist Mondrian. She first appears in "Picture Perfect".
She has ripped off many poor struggling dealers and buyers over the years in order to complete her collection. The crew fake an original Mondrian and stage a bidding war for her to participate in.
Ad blocker interference detected!
Wikia is a free-to-use site that makes money from advertising. We have a modified experience for viewers using ad blockers

Wikia is not accessible if you've made further modifications. Remove the custom ad blocker rule(s) and the page will load as expected.