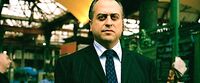 Johnny Keyes (played by Stanley Townsend) is a prominent restaurateur and celebrity chef in London, but has a notorious gangland past. He appears in "Confessions".
His restaurant, "Keyes" is a highly fashionable spot, with an eight-week waiting list for a table. Keyes also harbours deep feelings for his long-lost son, kidnapped at a very young age.
It is by impersonating this son that the crew find their "in". His suspicious wife, Juliette, is played by Rebecca Lacey.