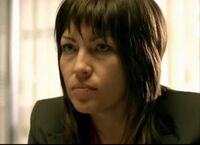 DS Terri Hodges (played by Liz May Brice) is head of Fraud Squad at the London Metropolitan Police. She first appeared within "The Con is On"
She has a particular vendetta against Michael Stone, having been tricked by him more than once.
Ad blocker interference detected!
Wikia is a free-to-use site that makes money from advertising. We have a modified experience for viewers using ad blockers

Wikia is not accessible if you've made further modifications. Remove the custom ad blocker rule(s) and the page will load as expected.