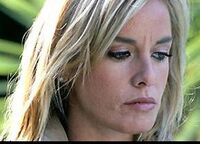 Catherine Winterborn (played by Tamzin Outhwaite) is a recently-divorced businesswoman who his very bitter and vengeful towards her ex-husband Steven (played by Ben Miles). She appears in "A Touch of Class".
Having been left with nothing after the divorce, she jumps at the opportunity to invest in a rival hotel chain organised by the crew. Even when a guilty Mickey admits the con to her, she tries to commission the crew into ruining her ex-husbands career, the team only realising that her ex is actually a good person after they have put the con into action when Stacie learned that her ex was sterile (She had inspired sympathy in Mickey by claiming that her ex made her have an abortion after receiving a fake phone call from Ash implying that Steven's new wife was pregnant, allowing her to realise what was up).
Ad blocker interference detected!
Wikia is a free-to-use site that makes money from advertising. We have a modified experience for viewers using ad blockers

Wikia is not accessible if you've made further modifications. Remove the custom ad blocker rule(s) and the page will load as expected.