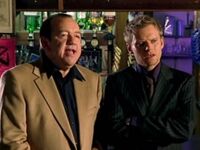 Benny Frazier (played by Mel Smith) owns 16 licensed pubs and clubs across the East End. He appears in "Price for Fame".
He is also a major importer of booze through his company, Benny Frazier Import/Export Company Limited, but he uses the alcohol shipments as a cover to smuggle in Eastern Europeans. The police have been after him for a while but they can never get anything on him. The crew get to him through his 17-year-old son, a hopeful but talentless rapper, keen to hit the big time.
Ad blocker interference detected!
Wikia is a free-to-use site that makes money from advertising. We have a modified experience for viewers using ad blockers

Wikia is not accessible if you've made further modifications. Remove the custom ad blocker rule(s) and the page will load as expected.