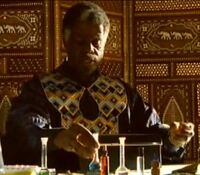 Anthony Mgube is an extremely wealthy individual born in Nigeria but residing in Switzerland, with a reputation for torturing prisoners in the army and allegations of embezzlement and fraud. He appears in "The Lesson".
He now sells arms to militia groups and mercenaries in East Africa. He has two main passions in his life: racing horses and collecting rare antique banknotes.
It is revealed that Mgube is actually Mickey in disguise in order to con grifter Trevor Speed who had conned Danny's grandmother.
Ad blocker interference detected!
Wikia is a free-to-use site that makes money from advertising. We have a modified experience for viewers using ad blockers

Wikia is not accessible if you've made further modifications. Remove the custom ad blocker rule(s) and the page will load as expected.